---
---
---
Traveling with Kids in Italy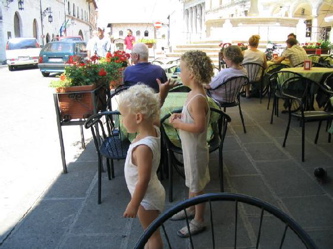 Above:

Kids in an Italian cafe. [a]
---
General Suggestions
---
Before you go:
When you get there:
Museums and Sightseeing
---
Specific Things to do with Kids in Italy
---
Above:

One of the 13 obelisks in Rome [b]; Trajan's Column - like a round comic book [c]; Neptune stabbing a sea monster [d].
In Rome
Near Rome
---
Above:

Duomo (Dome) of Florence [e]; Michelangelo's David [f]; Houses built on a bridge [g].
In Florence
---
Above:

The Leaning Tower of Pisa [h]; Monteriggioni, Tuscany [i]; The beach at Marina di Pisa [j].
In Tuscany, Outside Florence
---
Above:

Town of Manarola [k]; Cinque Terre trail [l]; Town of Riomaggiore [m].
In Cinque Terre and Liguria
---
Bibliography and Resources
---
Italy and Europe
Rome
Florence
Tuscany, outside Florence
Cinque Terre
---
Created by Jennifer Perry for Information Inquiry for Teachers (L551)
Indiana University School of Library and Information Science
Contact jeperry at indiana dot edu.
First published October 1, 2005.
Last updated October 2, 2005.